REMUS Catback Exhaust System - Pure Performance and perfect Sound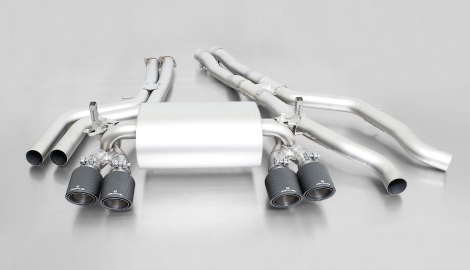 Remus exhaust is specially designed with the sport oriented drivers in mind. The REMUS designed cat-back exhaust system guarantees maximum power and performance, increased torque all in combination with the hottest sound ever to be created in the REMUS sound design acoustic chamber.
The 100% stainless steel manufactured REMUS catback exhaust system which features proven internals to reduce back pressure and an oversize bore diameter to ensure maximum power along with the unique REMUS sonorous sound. The considerable reduction in back pressure ensures a noticeable increase in power, exhaust performance and torque and allows the engine to rev more freely then before. The technical experience gained from many motor sport projects using REMUS catback exhaust systems has flown directly into the production process and in combination with the REMUS exhaust quality assurance ensures a premium product. As a matter of course, many REMUS catback exhaust systems are supplied with EC approval which eliminates the need to register the system in the car documents.
Features
Tube diameter perfectly adjusted to engine specifications
Optimized flow and back pressure
Stainless steel exhaust
EC homologation